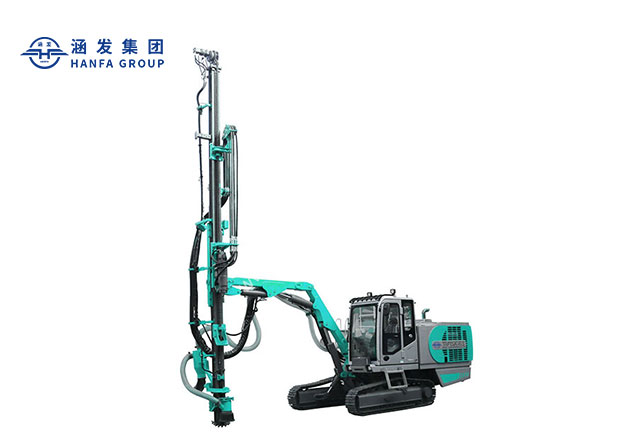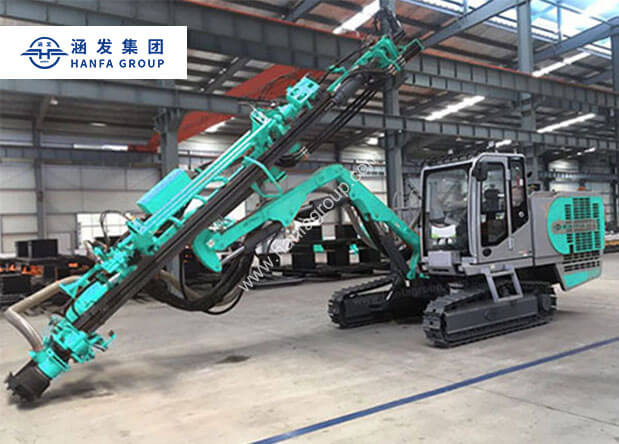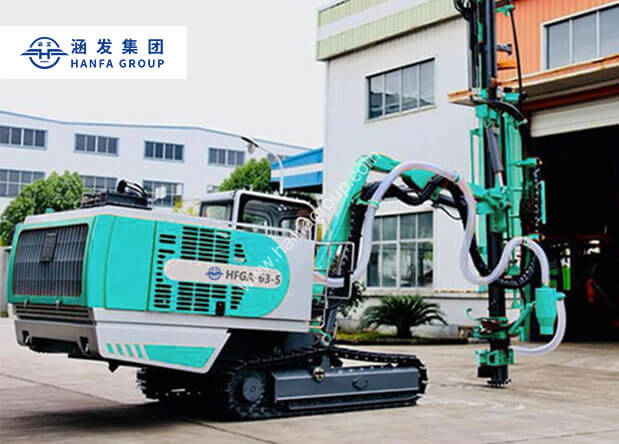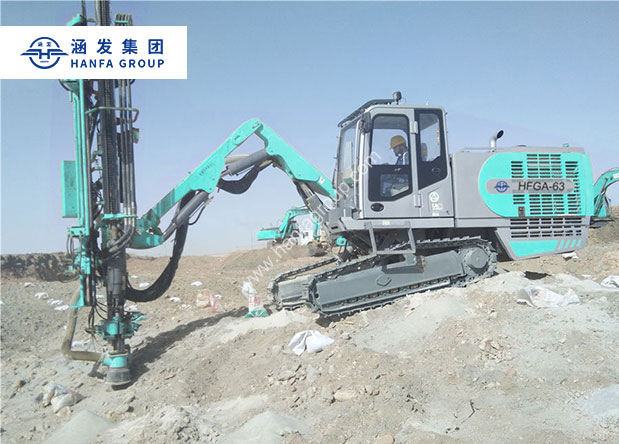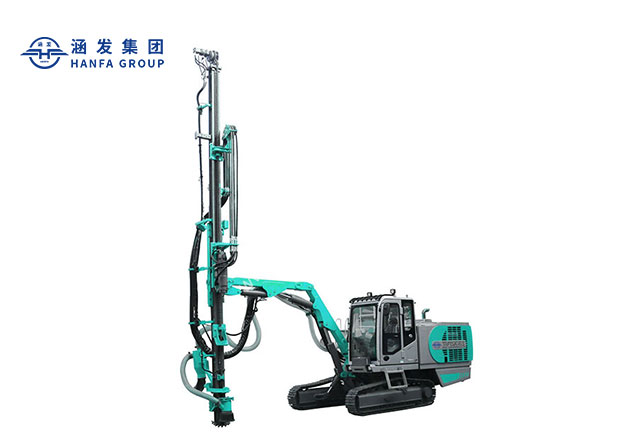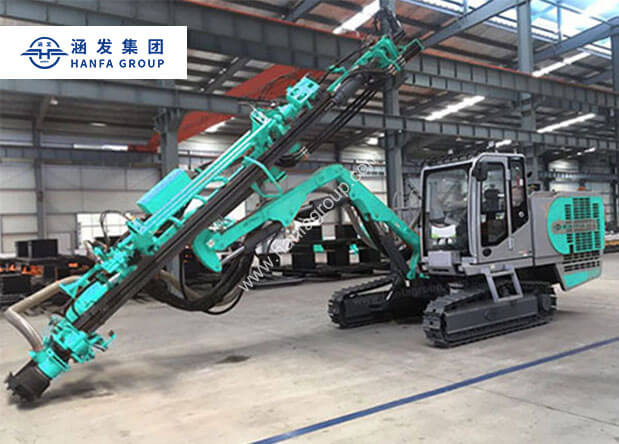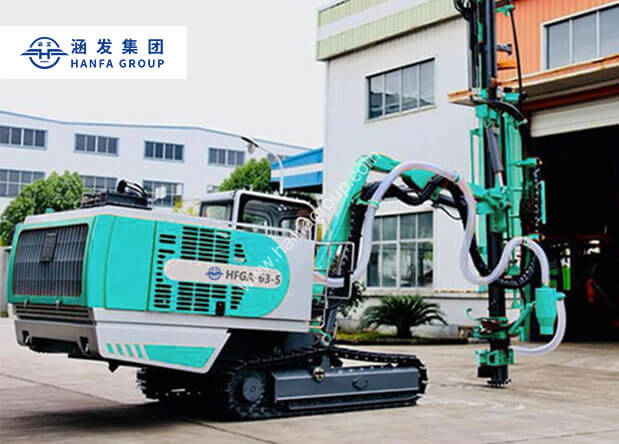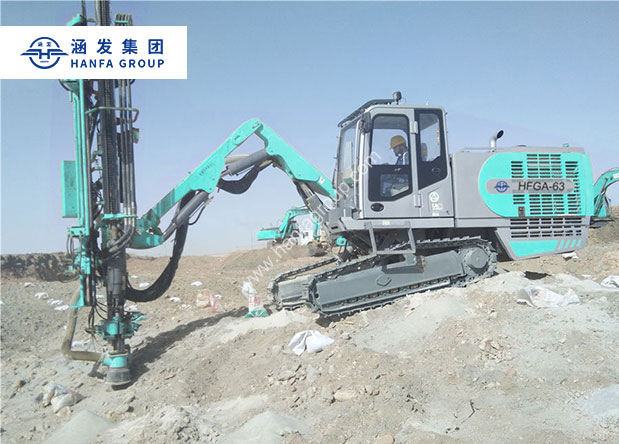 HFGA-63/63-5 Top Hammer Drilling Rig
Drilling Diameter:

42-102mm

Engine Power:

Cummins 93-119kW

Propelling Force/Lifting Force:

16kN/20kN

largest wind pressure:

7-8.5bar
Advantages of full hydraulic drifter
The high frequency hydraulic drifter adopts the long and thin impact piston design, which reduces the stress wave peak value, prolongs the service life of the drill tool and improves the drilling energy.
The hydraulic buffer mechanism effectively absorbs the reflected stress from the drill rod, doubling the service life of the drill tail and drill rod, and reducing the wear of the drill feed mechanism and drill arm.
According to the drilling conditions, the piston stroke, impact frequency, impact energy and impact pressure can be independently and reasonably adjusted, and the best drilling rate can be provided under different rock hardness levels.
Parts and specifications, advantages:
1. Dust catcher: dust filter with active dust catcher and pre-separation bucket.
2. Drill arm and oil cylinder: the design of high strength drill arm and the enlarged oil cylinder make the drilling process more stable.
3. electrical system: pressure, adjustment operation is very convenient, the application of PLC has a full range of automatic protection and maintenance function.
4. Automatic lubricating filling system: automatic lubricating oil filling, longer service life and more convenient operation.
5. Propulsion system: a propulsion system composed of hydraulic brake motor, chain, sprocket and pipe follower is adopted to promote the speed and speed, and the rubber hose can automatically follow up and tighten.
6. Drifter: the combination of high frequency hydraulic drill and anti-jamming system makes drilling more smooth.
7. Dust collector: two-stage dry strong dust collector system makes rock drilling without dust.
8.walking mechanism: the combination of heavy chassis and flat cylinder makes it have super wild.
Features
1 High efficiency and energy saving: the drilling speed within the aperture range is 1 meter per minute on average, and the oil consumption is less than 0.5 liter per meter.
2The crawler leveling device makes the center of gravity more stable and the crawler adhesion stronger.The protection design of brazing bin and driving cab can eliminate the hidden danger of personnel safety.
3The drilling rig can drill multiple rock holes at one time with flexible drilling arm and off-road function, which can meet the drilling requirements of various primitive landforms.Within the aperture ≤115mm and the hole depth within 15m, the drilling speed is 50% higher than that of the high-pressure integrated downhole drill.
4Equipped with self-designed high frequency and high power hydraulic drill, the energy consumption per unit of drilling rig is unmatched competitiveness.
TECHNICAL DATA
Main technical specifications
HFGA-63
HFGA-63-5
Drifter Model
Full hydraulic
Full hydraulic
The hole diameter
42-89mm
64-102mm
Drill pipe specifications
T38(T45)x3,660/6,095mm
T38(T38)x3,660
Maximum impact power
15kw
15kw
Engine
cummins 93kW
cummins 119kW
Propelling force/lifting force
16kN/20kN
20kN/20kN
Number of bit changer and rod holder
3+1(manual)/ 1
4+1(automatic)
F.A.D exhaust air.
3.4m3/min
5.4m3/min
The largest wind pressure
7bar
8.5 bar
Maximum climbing ability
25º
25º
Swing Angle of crawler frame
±10º
±10º
High and low walking speed
high:4km/h
high:3.5km/h
low:2km/h
low:1.8km/h
Weight
10,500kg
11,000kg