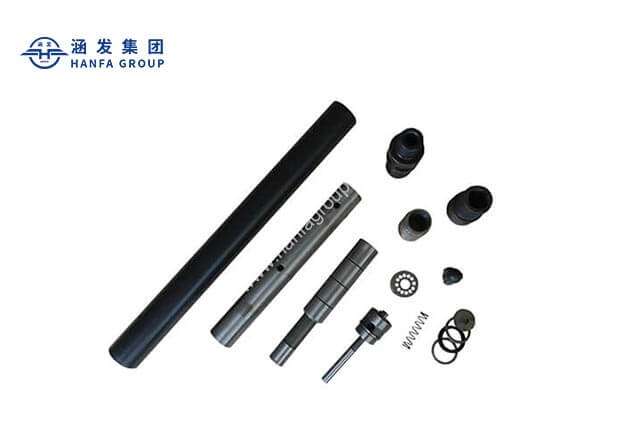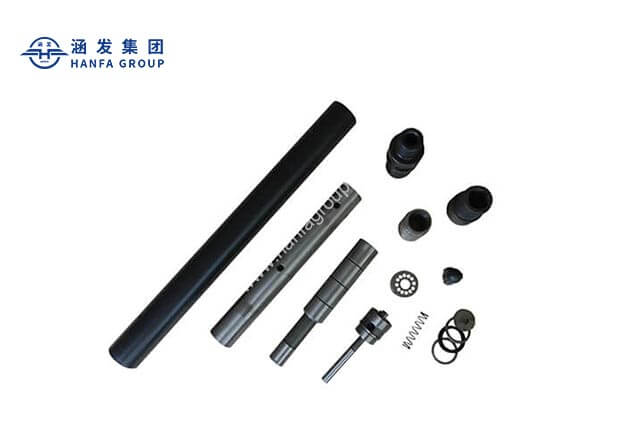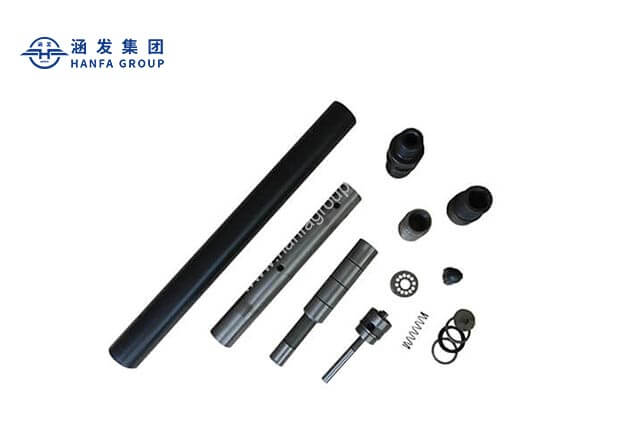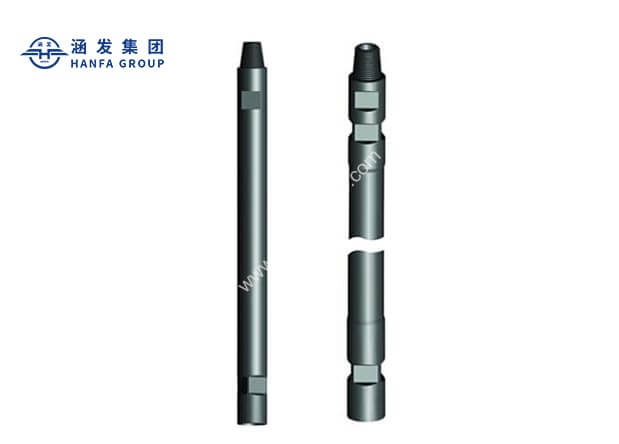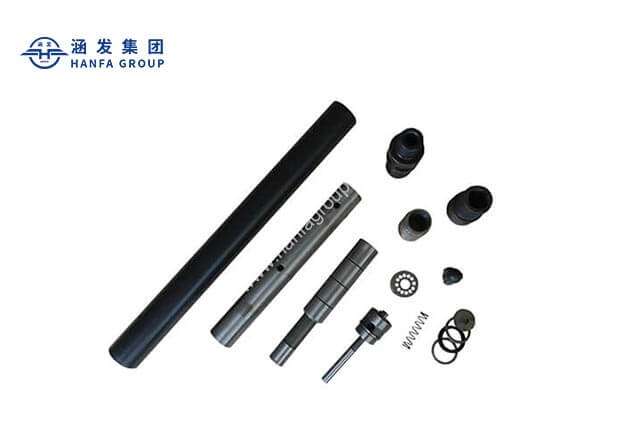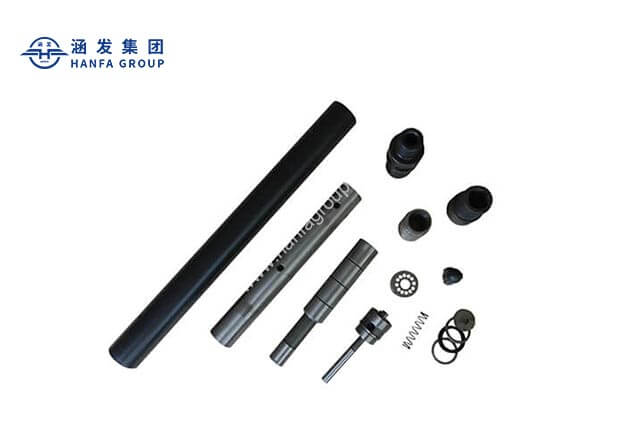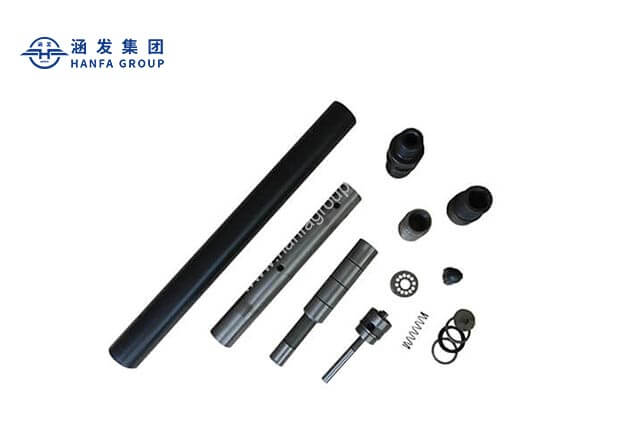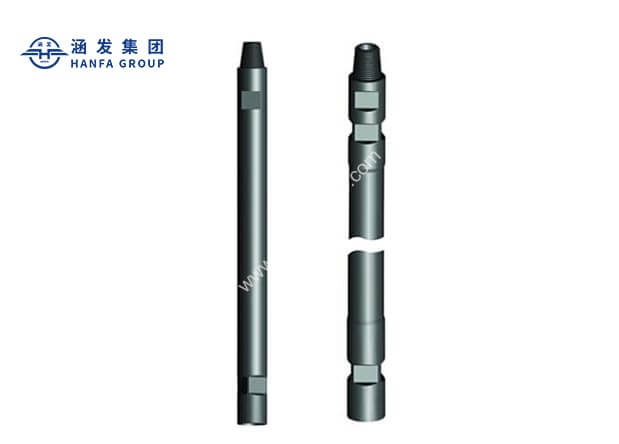 High Air Pressure DTH Hammer without Foot Valve
Length:

760-1880mm

External Diameter:

54-275mm

Hole Range:

64-445mm

Working Pressure:

0.7-3.0Mpa
product Introduction
The DTH hammer is also called pneumatic drill hammer. It is the power machine on the hole bottom that takes compressed air as the dynamic medium and uses the energy of compressed air to generate a continuous impact load. The compressed air can also be used as washing medium. It is mainly used in hydrological well drilling, core-free geological drilling, geological disaster prevention engineering and mine drilling. It is applicable for gravel and hard rock, it can also be used in soft soil when equipped with special structure drill bit.
Features
1No foot valve needed, thus saving the trouble of foot valve fracture, expansion and contraction.
2 Lower energy consumption and higher impact frequency. The drilling speed is 15%-30% higher than that of the same type with foot valve.
3Simple structure, reliable parts, long service life, easy maintenance and low cost.
4Lower air and oil consumption. The oil consumption is about 10% lower than the one with foot valve.
TECHNICAL DATA
Length (bit excluded)
Weight (bit excluded)
External diameter
Hole range
Working pressure
Impact frequency
Recommended rotation speed
Air consumption
760mm
10kg
54mm
64-76mm
0.7-1.75Mpa
27HZ(1.4Mpa)
25-40r/min
0.7Mpa
1.0Mpa
1.4Mpa
1.5m3/min
2.5m3/min
3m3/min
880mm
14.5kg
62mm
70-90mm
0.7-1.75Mpa
25HZ(1.4Mpa)
25-40r/min
0.7Mpa
1.0Mpa
1.4Mpa
2.5m3/min
4m3/min
5m3/min
872mm
16.0kg
71mm
76-90mm
1.0-2.5Mpa
25HZ(1.5Mpa)
22-35r/min
1.0Mpa
1.8Mpa
4m3/min
6m3/min
888mm
25kg
82mm
90-115mm
1.0-2.5Mpa
25HZ(1.5Mpa)
25-40r/min
1.0Mpa
1.8Mpa
3.8m3/min
7.5m3/min
986mm
37kg
92mm
105-120mm
1.0-3.0Mpa
30HZ(1.7Mpa)
25-40r/min
1.0Mpa
1.8Mpa
2.4Mpa
5m3/min
8m3/min
13m3/min
1011mm
43.2kg
99mm
110-135mm
1.0-3.0Mpa
30HZ(1.7Mpa)
22-35r/min
1.0Mpa
1.8Mpa
2.4Mpa
6m3/min
10m3/min
15m3/min
1110mm
69kg
125mm
135-155mm
1.0-3.0Mpa
28HZ(1.7Mpa)
20-35r/min
1.0Mpa
1.8Mpa
2.4Mpa
7m3/min
14m3/min
19m3/min
1110mm
66kg
116mm
127-145mm
1.0-3.0Mpa
28HZ(1.7Mpa)
20-30r/min
1.0Mpa
1.8Mpa
2.4Mpa
9m3/min
18m3/min
26m3/min
1238mm
98kg
148mm
155-203mm
1.0-3.0Mpa
25HZ(1.7Mpa)
20-30r/min
1.0Mpa
1.8Mpa
2.4Mpa
9m3/min
18m3/min
26m3/min
1188mm
115kg
165mm
175-216mm
1.0-3.0Mpa
25HZ(1.7Mpa)
20-30r/min
1.0Mpa
1.8Mpa
2.4Mpa
11m3/min
20m3/min
27m3/min
1359mm
175kg
180mm
195-254mm
1.0-3.0Mpa
22HZ(1.7Mpa)
15-25r/min
1.0Mpa
1.8Mpa
2.4Mpa
12m3/min
22m3/min
28m3/min
1340mm
203kg
203mm
216-254mm
1.0-3.0Mpa
22HZ(1.7Mpa)
15-25r/min
1.0Mpa
1.8Mpa
2.4Mpa
16m3/min
28m3/min
39m3/min
1525mm
316kg
225mm
254-311mm
1.0-3.0Mpa
20HZ(1.7Mpa)
15-25r/min
1.0Mpa
1.8Mpa
2.4Mpa
22m3/min
40m3/min
65m3/min
1880mm
474kg
275mm
305-445mm
1.0-3.0Mpa
20HZ(1.7Mpa)
15-25r/min
1.0Mpa
1.8Mpa
2.4Mpa
28m3/min
50m3/min
71m3/min