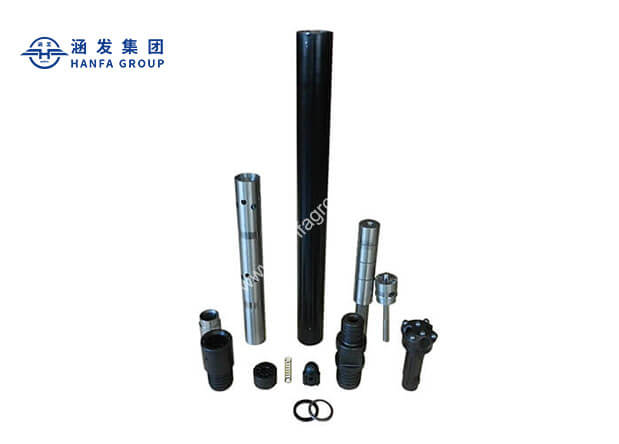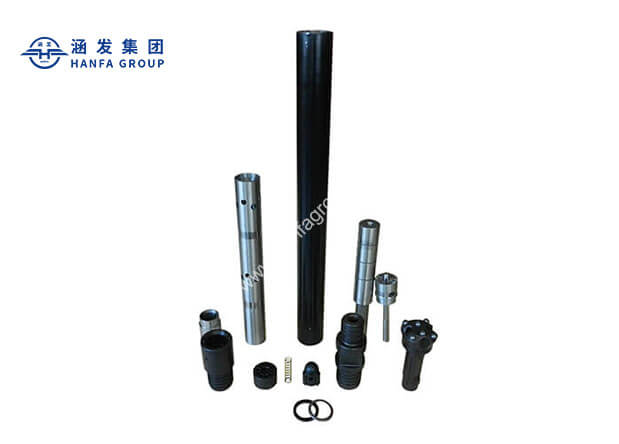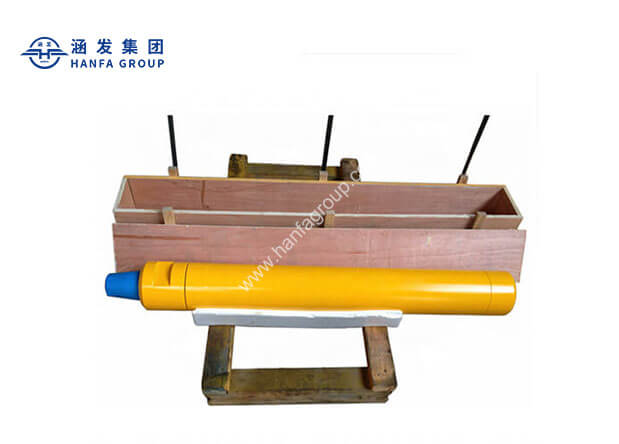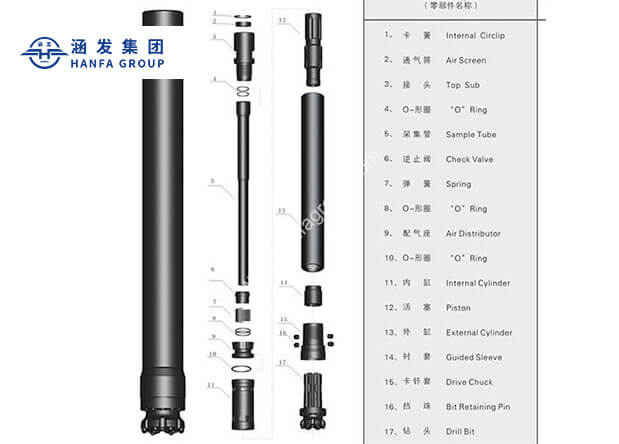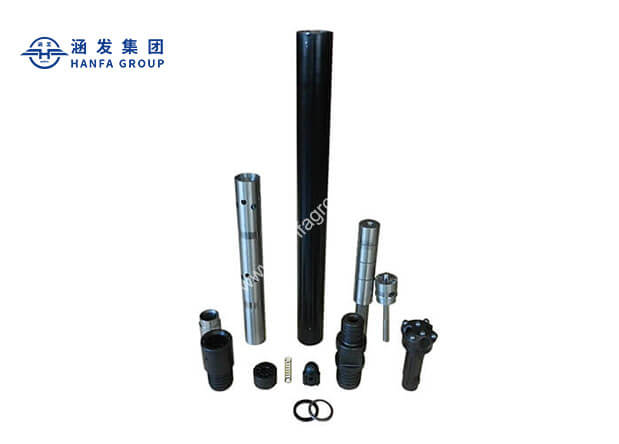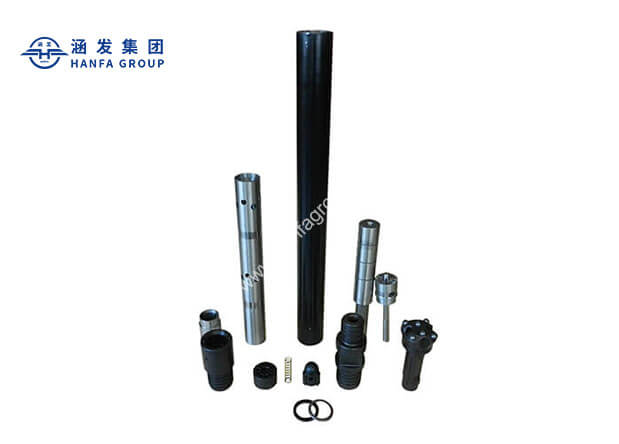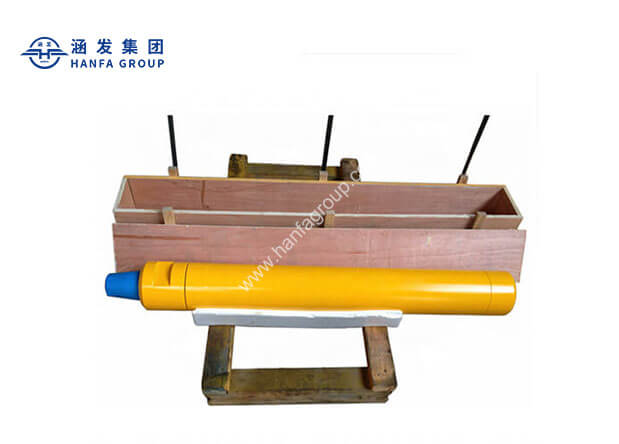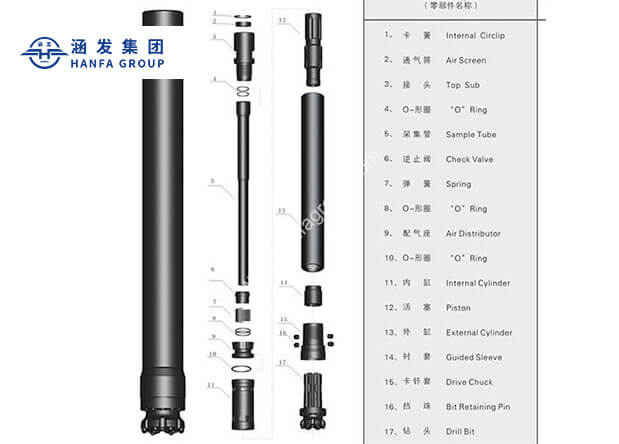 Reverse Circulation DTH Hammer
Length:

1020-1528mm

External Diameter:

99-240mm

Hole Range:

114-370mm

Working Pressure:

1.0-3.5Mpa
product Introduction
Reverse circulation drilling is also called central sample collection or double-wall drilling. This type of drilling usually uses a double-wall drill pipe. Drilling force is high wind pressure gas, which enters into the hammer through the gap between the outer pipe and the inner pipe. The hammer hit the drill bit to break rock, and the broken rock is collected into the pores on the drill bit surface, and then the rock samples are collected through the sample collection pipe and the drill pipe.
Advantages
1. No pollution, the reverse-circulation DTH hammer can quickly pick up samples on the drill bit surface at the moment of rock fragmentation. The sample does not need to pass through the hammer length, thus avoiding sample contamination and loss.
2. High productivity. In broken and fractured rock, the penetration speed is superior to the ordinary hammer.
3. Dry samples can be collected even in water condition, because drilling cuttings are collected as soon as they produced on the drill bit surface.
4. High sample recovery. Samples are collected from the drill bit surface, so samples loss can be avoided in broken and fractured rock formations. Since the bit diameter is almost equal to the external diameter of the wear sleeve, the sample collection recovery rate can reach 98%.
Features
1Simple internal structure, good rigidity of parts, ensuring the long service life and convenient maintenance.
2Collection tube is an integral type, which can be replaced without removing the hammer. After carburizing treatment, the collection tube is good in wear resistance.
3With the patented design of the drill bit, it only needs to replace the drill bit. The same hammer can be used for holes of different sizes, and the samples can be guaranteed to be free from contamination.
4The sampling work can be done well, even under various difficult conditions such as loose soil, hard rock and large amount of water.
TECHNICAL DATA
Length (bit excluded)
Weight (bit excluded)
External diameter
Hole Range
Working pressure
Impact Frequency
Recommended rotation speed
Air Consumption
1020mm
94kg
99mm
114-127mm
1.0-3.0Mpa
30HZ(1.7Mpa)
25-40r/min
1.0Mpa
1.8Mpa
2.4Mpa
8m3/min
12m3/min
16m3/min
1111mm
66.5kg
126mm
133-152mm
1.5-3.5Mpa
35HZ(2.4Mpa)
25-40r/min
1.7Mpa
2.4Mpa
3.0Mpa
16m3/min
22m3/min
28m3/min
1120mm
48kg
100mm
104-120mm
1.0-3.0Mpaa
30HZ(2.4Mpa)
25-40r/min
1.7Mpa
2.4Mpa
3.0Mpa
8m3/min
12m3/min
16m3/min
1165mm
47kg
107mm
111-127mm
1.0-3.0Mpaa
30HZ(2.4Mpa)
25-40r/min
1.7Mpa
2.4Mpa
3.0Mpa
8m3/min
12m3/min
16m3/min
1191mm
57kg
109.5mm
113-130mm
1.0-3.0Mpaa
30HZ(2.4Mpa)
25-40r/min
1.7Mpa
2.4Mpa
3.0Mpa
12m3/min
18m3/min
26m3/min
1191mm
62kg
116mm
120-135mm
1.5-3.5Mpaa
35HZ(2.4Mpa)
25-40r/min
1.7Mpa
2.4Mpa
3.0Mpa
12m3/min
18m3/min
26m3/min
1208mm
70kg
126mm
133-146mm
1.5-3.5Mpa
35HZ(2.4Mpa)
20-40r/min
1.7Mpa
2.4Mpa
3.0Mpa
16m3/min
22m3/min
28m3/min
1225mm
65kg
124mm
130-146mm
1.5-3.5Mpa
35HZ(2.4Mpa)
25-40r/min
1.7Mpa
2.4Mpa
3.0Mpa
16m3/min
22m3/min
28m3/min
1227mm
68.5kg
121mm
126-142mm
1.5-3.5Mpa
35HZ(2.4Mpa)
20-40r/min
1.7Mpa
2.4Mpa
3.0Mpa
16m3/min
22m3/min
28m3/min
1250mm
110kg
146mm
155-190mm
1.5-3.5Mpa
28HZ(2.4Mpa)
20-40r/min
1.7Mpa
2.0Mpa
3.0Mpa
20m3/min
26m3/min
35m3/min
1252mm
52kg
107mm
111-127mm
1.0-3.0Mpaa
30HZ(2.4Mpa)
20-40r/min
1.7Mpa
2.0Mpa
3.0Mpa
8m3/min
12m3/min
16m3/min
1261mm
65kg
117.5mm
122-135mm
1.5-3.5Mpaa
35HZ(2.4Mpa)
20-40r/min
1.7Mpa
2.0Mpa
3.0Mpa
16m3/min
22m3/min
28m3/min
1270mm
71kg
124.5mm
130-146mm
1.5-3.5Mpa
35HZ(2.4Mpa)
25-40r/min
1.7Mpa
2.4Mpa
3.0Mpa
16m3/min
22m3/min
28m3/min
1294mm
84.5kg
130mm
135-150mm
1.5-3.5Mpa
35HZ(2.4Mpa)
25-40r/min
1.7Mpa
2.4Mpa
3.0Mpa
16m3/min
22m3/min
28m3/min
1320mm
110kg
146mm
152-190mm
1.5-3.5Mpa
28HZ(2.4Mpa)
25-40r/min
1.7Mpa
2.4Mpa
3.0Mpa
20m3/min
26m3/min
35m3/min
1362mm
80.5kg
120.5mm
124-142mm
1.5-3.5Mpaa
35HZ(2.4Mpa)
20-40r/min
1.7Mpa
2.0Mpa
3.0Mpa
16m3/min
22m3/min
28m3/min
1362mm
90kg
132mm
136-150mm
1.5-3.5Mpa
35HZ(2.4Mpa)
25-40r/min
1.7Mpa
2.4Mpa
3.0Mpa
18m3/min
24m3/min
32m3/min
1395mm
185kg
180mm
190-250mm
1.5-3.5Mpa
24HZ(2.4Mpa)
25-40r/min
1.7Mpa
2.4Mpa
3.0Mpa
28m3/min
38m3/min
52m3/min
1528mm
328kg
240mm
250-370mm
1.5-3.5Mpa
20HZ(2.4Mpa)
15-20r/min
1.7Mpa
2.4Mpa
3.0Mpa
36m3/min
48m3/min
65m3/min